Unvented hot water systems are fed directly from the feed of the cold mains water, meaning they can deliver hot water at mains pressure – ideal for heightening the performance of a bath or shower. With an unvented hot water system, you don't need a cold water storage tank; which is an advantage if you are trying to economise on space within your property.
Catering For High Water Demand
If your shower or bath typically uses up a lot of water, the demand can sometimes prove too great to be serviced by a combination boiler. That's where an unvented hot water system comes in, allowing you to utilise the greater power afforded by the mains supply, and heating the water using an immersion heater or by the central heating system indirectly.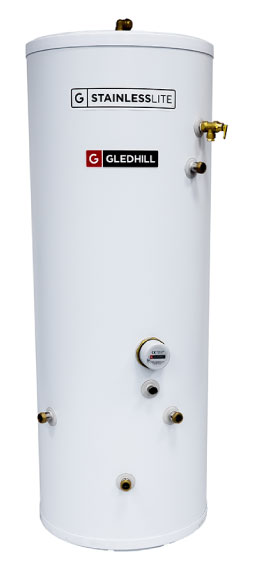 It is always important to have an unvented hot water system installed and serviced by qualified professionals. At Parkstone Yorkshire our team is made up of City & Guilds-qualified plumbers and heating specialists, meaning that you can rely on jobs being completed to the highest standards, safely and efficiently.
Many people don't realise it is a legal requirement that plumbers and gas engineers hold a valid G3 qualification if they intend to install and service your unvented hot water cylinder. At Parkstone Yorkshire, we only employ G3 qualified installers specifically for projects involving unvented hot water systems.
If you are looking for a qualified professional team to service your unvented water heater periodically, for a fee which won't break the bank, count on Parkstone Yorkshire.
flat fee for a regular service (not including costs for any new parts needed). Compare our rates to other services in the Leeds region, and we are confident that our unvented hot water package prices will be among the most competitive.
On Time, Every Time
Whether you are a business or domestic customer, we understand the importance of a reliable and timely service which causes minimal disruption to your day. For this reason, we are committed to punctual call outs which mean you won't be waiting around for a long time for our team to arrive. so if you need unvented hot water cylinders to be looked at , you can count on Parkstone Yorkshire.
Experts in all areas of heating installation
Free no obligation quotes
Gas safe registered engineers
Vaillant Mastertec installers, Baxi accredited installers, Atag accredited installers,
Installers of smart controls: nest pro installers, hive etc
Local reputable company.
High score on checkatrade
15 years experience in gas service and repair served at British Gas
Honest, trustworthy, polite, no nonsense
No hard sell
Honest advice with our customers needs and budget in mind